Home
→ Food supplement RELAX Box. Breastfeeding, 30 packs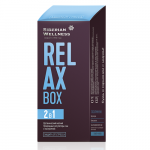 Buy
Food supplement RELAX Box. Breastfeeding, 30 packs
# 500931 30 packs
A complex with organic magnesium and plant extracts for maximum stress control and emotional stabilization.
Natural formula for peace of mind
Provides appropriate response in stressful situations and rapid adaptation to neuropsychological overload.
Natural sleep and mood regulators
Plant extracts normalize the emotional default and relieve nervous tension.
Blends with your normal rhythm of life
The complex relieves nervous excitement, supports working capacity and concentration.
Complete stress control with the RELAX Box
Our body is constantly affected by many stimuli, requiring an active response to change. An appropriate and timely response from the intellect and the body, as a whole, guarantees personal success, safety and stability. Whereas its absence means constant problems and worries.
Provide your body with the necessary nutrients to quickly cope with nervous and emotional stress. Let it always have the needed resources for important things. RELAX Box complex is our reliable protection against stress, a guarantee of good sleep and a great mood.
No more stress in your life!
• Managing difficult situations with grace!
The main mineral for calm, magnesium, is an active participant in all nervous processes. It helps you respond calmly to stimuli without having an intense autonomic reaction: high blood pressure, sweating, unnecessary tension. This is the key to making the right decisions, even in the most stressful situations!
• Good mood and confidence in your abilities!
A positive attitude helps to cope with anything that comes your way. Allows you to solve even the most difficult problems with ease. Entrust this task to a powerful herbal formula! Hypericin in St. John's wort extract works as a mild antidepressant, providing emotional stabilization and great mood. Does not cause addiction.
• Perfect sleep and quick recovery
Extracts of a whole complex of anti-stress plants – passiflora, hellebore, valerian – harmonize the nervous system and improve sleep quality, creating excellent conditions for body resources to be replenished.
Magnesium
The main calming mineral in citrate form helps normalize blood pressure, has a calming effect and improves sleep quality.
Hawthorn extract and Baikal skullcap
Plant bioflavonoids help harmonize your emotional state and reduce anxiety.
Passiflora extract (Finzelberg™)
A rich source of vitexin, which reduces excitability and promotes muscle relaxation. Increases stress resistance and improves sleep quality. Helps relieve nervous excitement while maintaining concentration and performance. Better stress control!
Valeriana extract
The active ingredient, valeric acid, reduces irritability and helps maintain emotional balance.
John's wort extract (Finzelberg™)
Hypericin in its composition has a mild antidepressant effect, stabilizes the speed and efficiency of mental processes, improves mood and has a beneficial effect on emotional balance.
Advantages:
• Allows you to adapt to a highly stressful work environment, without compromising concentration.
• Increases stress tolerance.
• Prevents insomnia.
• Gently supports parents of small children.
Recommended use
1. Once a day
2. Take 1 pack
3. Take contents with a meal
Course duration: 1 month. If necessary, the course can be repeated.
Complex No. 1 (light capsule): Magnesium citrate, valerian extract, hawthorn flowers and leaves extract, Baikal skullcap extract.
Complex No. 2 (dark capsule): Passiflora extract, St. John's wort extract.
May contain traces of cereals (gluten), soy, mustard, sesame, celery, milk, fish, crustacean, shellfish and their derivatives.
Free from porcine gelatine.