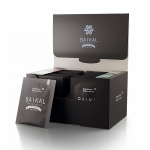 Buy
The Baikal Tea Collection Set
# 500856 40 tea bags x 1.5 g
Discover the precious gift of nature – the splendid aroma and taste of traditional Siberian herbal tea. Carefully hand-picked by herbalists, the tea fills your day with energy and helps to escape from hustle and bustle of city life. Four flavors for perfect well-being and wonderful mood!
Herbal tea № 2 FEMALE HARMONY
30 tea bags × 1.5 g
To restore inner harmony, a woman needs a little serenity and... a cup of special herbal tea. Fragrant infusion based on sage, lemon balm, and mint will leave you feeling peaceful and help to have a good rest. Enjoy the delicate flavor and aroma of summer herbs!
Herbal tea № 3 NATURAL POISE
10 tea bags × 1.5 g
A cup of full-flavored tea with a mild herbal taste will help you relax and wind down after a busy day. Baikal skullcap, mint, lemon balm, and oregano will bring a comforting aroma of a summer meadow and help you tune in to optimistic thoughts and emotions.
Herbal tea № 4 FOREST BREATH
10 tea bags × 1.5 g
The fragrant blend of oregano, linden and chamomile will perks you up and help survive the season of common colds. Apple pieces accentuate the taste with fruity notes.
Herbal tea № 6 NATURAL SUPPORT
10 tea bags × 1.5 g
Try this blend with refreshing notes of mint, chamomile, corn silk and knotgrass herb.
Product of Russia.
Manufacturer: Laboratory of Modern Health LLC, 11/20 Khimzavodskaya St., Berdsk, Novosibirsk Region, 633004, Russia.
Herbal tea № 2. Female harmony
Ingredients: alfalfa herb, motherwort herb, oregano herb, peppermint leaf, lemon balm herb, sage leaf.
Herbal tea № 3. Natural poise
Ingredients: Baikal skullcap root (30%), lemon balm herb, oregano herb, chamomile flower, peppermint leaf.
Herbal tea № 4. Forest breath
Ingredients:Linden flowers (23%), apple pieces (22%), oregano (20%), mint (20%), chamomile flowers (15%).
Herbal tea № 6. Natural support
Ingredients: corn silk, peppermint leaf, chamomile flower, rose hip, knotgrass herb.