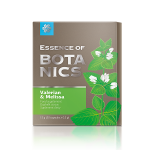 Buy
Food Supplement Essential Botanics. Valerian and Melissa, 30 capsules
# 500657 15 g (30 capsules × 0.5 g)
Botanical anti-stress complex based on valerian, melissa and oregano extracts.
delivers a calming effect
reduces irritability, improves sleep quality, smooths out mood swings
helps normalize blood pressure
supports cognitive function
supports the normal functioning of the digestive system
Valerian extract supports mental health and cardiovascular system, helps to lower blood pressure, facilitates the onset of natural sleep.
Melissa herb is a natural antioxidant that provides the body with a large amount of bioflavonoids. It promotes a mild sedative effect, helps to normalize metabolic processes, digestion, respiratory system and circulatory system.
Oregano herb has a beneficial effect on the nervous system, helps to normalize sleep. It stabilizes the work of the cardiovascular system, upper respiratory tract, maintains the normal functioning of the liver and gallbladder. It is a natural antioxidant, that helps to strengthen the immune system.
Recommended use
Adults should take 1 capsule per day with a meal. Intake duration – 1 month.
Warnings and storage conditions
– Individual intolerance to the food supplement ingredients.
– Medical advice is recommended before intake.
– Keep out of reach of children!
– Do not exceed the recommended daily intake.
– Not intended for pregnant and lactating women.
– Not intended as a substitute for a diversified diet.
– Gluten- and lactose-free.
Store in a dry, shadowed place at a temperature of not more than 25 °С.
Valerian extract: sesquiterpene acids as valeric acid; gelatin capsule; oregano herb; melissa herb.
| | |
| --- | --- |
| Ingredients | 1 capsule contains |
| Valerian extract (Valeriana officinalis L.) | 300 mg |
| Sesquiterpene acids as valeric acid | 0,75 mg |
| Gelatin capsule | 100 mg |
| Oregano herb (Herba Origani vulgare L.) | 50 mg |
| Melissa herb (Herba Melissae officinalis L.) | 50 mg |