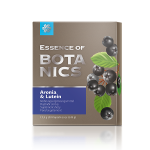 Buy
Food supplement Essence of botanics.Aronia & Lutein, 30 capsules
# 500653 13.5 g (30 capsules x 0.45 g)
Food supplement with aronia powder, bilberry fruit extract, lutein and zeaxanthin
Eyes are one of the most amazing parts of the body, which exposed to loads every day. Computer, TV and night driving – particularly tiresome to the eyes. The capsules contain aronia and bilberry fruit extract. They also contain lutein.
Recommended use
adults take 1 capsule once a day with a meal and some liquid. Do not exceed the recommended daily intake. Intake duration: no more than 1 month.
Note:
food supplements should not be used as a replacement for a well-balanced and diversified diet or a healthy lifestyle. Keep out of reach of children. In case of any individual intolerance please consult your health care professional prior to intake.Not intended for pregnant and lactating women.
Ingredients: aronia powder (Aronia melanocarpa), gelatin, bilberry fruit extract (Vaccinium myrtillus L.), African marigold, extract (Tagetes erecta) containing lutein and zeaxanthin.
Name
Daily intake (1 capsule)
Aronia powder
310

mg

Bilberry fruit extract
30

mg

of which anthocyanins
7,5

mg

Lutein
1

mg

Zeaxanthin
0,1

mg