Home
→ Herbal tea № 3. Natural poise, 30 tea bags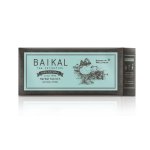 Buy
Herbal tea № 3. Natural poise, 30 tea bags
# 500583 30 tea bags × 1.5 g
TRUE SIBERIA IS INSIDE!
A cup of full-flavored tea with a mild herbal taste will help you relax and wind down after a busy day. Baikal skullcap, mint, lemon balm, and oregano will bring a comforting aroma of a summer meadow and help you tune in to optimistic thoughts and emotions.
Recommended use
Pour 1 glass (200 ml) of boiling water over a tea bag and steep for 15 minutes, squeeze.