Home
→ Food supplement Siberian Super Natural Nutrition Natural Vitamins, 120 capsules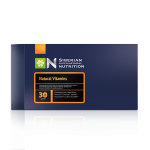 Buy
Food supplement Siberian Super Natural Nutrition Natural Vitamins, 120 capsules
# 500469 30 packs × 4 capsules
An organic complex of vitamins, minerals and omega-3 polyunsaturated fatty acids of natural (not synthetic) origin.
Complex No. 1: 30 capsules × 500 mg
Complex No. 2: 30 capsules × 525 mg
Complex No. 3: 30 capsules × 850 mg
Complex No. 4: 30 capsules × 840 mg
Manufacturer: Laboratory of Modern Health LLC, 11/20 Khimzavodskaya St., Berdsk, Novosibirsk Region, 633004, Russia.
Recommended use
Adults take one pack once a day with a meal.
WARNINGS:
Individual intolerance to the food supplement ingredients.
Medical advice is recommended before intake.
Keep out of reach of children!
Do not exceed the recommended daily intake.
The product does not replace a diversified diet.
Not intended for children!
Not intended for pregnant and lactating women.
Free from gluten and lactose.
STORAGE CONDITIONS:
Store in a dry place, away from light, at a temperature of no more than 25 °C.
1 упаковка (4 капсулы) содержит:
Ингредиенты

Количество на порцию (4 капсулы)

%Дневная стоимость

Комплекс № 1 (бежевая капсула).




1 капсула (500 мг) содержит:

Экстракт мочевого пузыря (Fucus vesiculosus L.)

150 mg

Йод

150 мкг

100%

Автолизат дрожжей Lallemand ™ с комплексом витаминов группы B

150 mg

Витамин B1

0.33 mg

30%

Витамин В2

0.48 mg

34%

Витамин B6

0.6 mg

43%

Пантотеновая кислота

2.85 mg

47.5%

Ниацин (витамин PP)

4.8 mg

30%

Фолиевая кислота

75 мкг

37.5%
Biotin
15.8 mcg
31.6%
Bamboo extract (Bambusa bambos (L.)
50 mg
Silica
11.7 mg
Lalmin Se 2000™ yeast autolysate
50 mg
Selenium
110 mcg
200%

Cellulose capsule

100 mg
Hypromellose(Е464)
100 mg
Complex № 2 (green capsule).
1 capsule (525 mg) contains:
Acerola extract (Malpighia glabra)
350 mg
Vitamin C
60 mg
75%
Lalmin® Vita D yeast autolysate
50 mg
Vitamin D2
10 mcg
200%
Lavitol™ Dihydroquercetin
10 mg
Dihydroquercetin
8.8 mg
elaVida™ olive extract (Olea europaea)
10 mg
Hydroxytyrosol
1.5 mg
Vitamin B12 (cyanocobalamin) 0.1%
3 mg
Vitamin B12
3 mcg
120%
Vitamin B2 (riboflavin)
2 mg
Vitamin B2
1.94 mg
138.6%
Cellulose capsule
100 mg
Cellulose
96.2 mg
Copper complexes of chlorophyll (E 141)
0.8 mg
Titanium dioxide (Е171)
3 mg
Complex № 3 (red capsule).
1 capsule (850 mg) contains:
PronovaPure™ сoncentrate of omega-3 polyunsaturated fatty acids extracted from deep-sea fish
560 mg
Docosahexaenoic acid
119 mg
Eicosapentaenoic acid
302 mg

Омега-3 полиненасыщенные жирные кислоты

492 mg

Смесь токоферолов

30 mg

Витамин Е.

28.5 mg
237.5%

CaroCare ™ бета-каротин

20 mg

Бета-каротин

6 mg

Желатиновая капсула

240 mg

Комплекс № 4 (желтая капсула).




1 капсула (840 мг) содержит:

PronovaPure ™ концентрат полиненасыщенных жирных кислот омега-3, извлеченных из глубоководной рыбы.

550 mg

Омега-3 полиненасыщенные жирные кислоты

483.5 mg

Всего омега-3 ПНЖК

975.5 mg

Докозагексаеновая кислота

117.2 mg

Общая докозагексаеновая кислота

236.2 mg

Эйкозапентаеновая кислота

296.5 mg

Общая эйкозапентаеновая кислота

598.5 mg

Желатиновая капсула

240 mg