Home
→ Mountain lavender. Extra Rich Botanical Toothpaste, 100 ml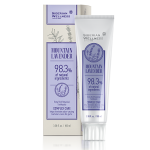 Buy
Mountain lavender. Extra Rich Botanical Toothpaste, 100 ml
# 417381 100 ml
98.3% of natural ingredients
COMPLEX CARE
helps eliminate odour-causing bacteria & cares for gums
Extra rich botanical toothpaste contains essential lavender oil, natural kaolin, aloe leaf juice and powerful extracts of Siberian plants to help eliminate odour-causing bacteria & gums care.
LAVENDER ESSENTIAL OIL
helps eliminate odour-causing bacteria.
NATURAL KAOLIN
is tonifaying gums, 100% natural colorant.
ALOE VERA GEL
offers protection for your teeth, gums and improved oral hygiene.
POWERFUL EXTRACTS OF SIBERIAN PLANTS
protect from oxidative stress.
Manufacturer: Laboratory of Modern Health LLC, 11/20 Khimzavodskaya St., Berdsk,Novosibirsk Region, Russia, 633004.
Recommended use
Adults should use twice a day.
Active ingredients: essential oil of lavender, purple clay, reishi mushroom extract, Siberian ginseng extract (eleuterococcus), potassium salts, magnolia extract, aloe vera gel.
(INCI): Aqua, Sorbitol, Hydrated Silica, Cocoyl Methyl Glucamide, Cellulose Gum, Phenoxyethanol, Xanthan Gum, Kaolin, Potassium Citrate, Menthol, Sodium Saccharin, Arginine, Aloe Barbadensis Leaf Juice, Glycerin, Ethylhexylglycerin, Lavandula Angustifolia Oil, Bisabolol, Ganoderma Lucidum Stem Extract, Sorbic Acid, Eleutherococcus Senticosus Root Extract, Magnolia Officinalis Bark Extract, Maltodextrin, Potassium Sorbate, Citric Acid, Sodium Benzoate, Linalool.