Home
→ "Chinotto & Lemongrass" Toothpaste, 75 ml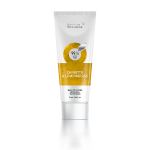 Buy
"Chinotto & Lemongrass" Toothpaste, 75 ml
# 411379 75 ml
Chinotto and refreshing lemongrass toothpaste is inspired by nature for delicate care of your teeth!
Natural ingredients (99.1%): magnolia bark helps protect against bacteria which cause caries and bad breath, essential lemongrass oil works to freshen your breath. Green tea promotes delicate care for the sensitive gums.
Bright flavor: freshness of chinotto and lemongrass.
Recommended use
Brush your teeth at least twice a day. Fluoride-free.
Chinotto juice, lemongrass leaves, extract of magnolia bark, green tea extract, papain (papaya enzyme), xylitol 10%.
Ingredients (INCI): hydrogenated starch hydrolysate, silica, xylitol, aqua, sodium lauroyl sarcosinate, aroma, cellulose gum, arginine, citrus aurantium extract, menthyl lactate, xanthan gum, o-cymen-5-ol, cymbopogon citratus leaf powder, magnolia officinalis bark extract, camellia sinensis leaf extract, papain.