Home
→ Experalta Platinum. Cosmetic Dropper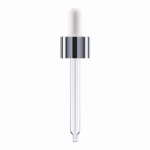 Buy
Experalta Platinum. Cosmetic Dropper
# 107557
Following the Company's principles of sustainable development, ampoules are produced without a dropper. You can buy it separately.
By purchasing a reusable cosmetic dropper, you make a real contribution to the future of our planet.
Eco-advantages:

Minimizing the amount of Experalta Platinum ampoules packages.
The dropper can be recycled after use.
Recommended use
before first use or when changing cosmetic products, wash the dropper with soap and water. Rinse thoroughly with warm water and leave to dry completely.
Do not use abrasive detergents.
Avoid rapid temperature change.
NBR rubber, aluminum, polypropylene, glass.